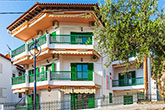 Loutra Village is made out of the Karnagio Apartments, Villa Solena, Arsinoi, Mary's house and Studios Elissavet, all situated in Agia Paraskevi in Kassandra. Karnagio Apartments is located just 20 meters from the beach of Loutra that is awarded with a Blue Flag every year. Karnagio Apartments will allow you a splendid opportunity to combine Spa relaxation on holidays and to be accommodated in the centre of the village with a walking distance from the  local supermarkets. The property is located 4 km from the traditional village of Agia Paraskevi and 150 m from the natural thermal springs. Villa Solena is situated in the settlement of Loutra, in the peninsula of Kassandra. It is about 5 km from Agia Paraschevi, just 150 m from a supermarket, 100 m from taverns and 120 m from the bus stop. Villa Solena is approximately 200 m from the beach. Elissavet Studios are located also in the village of Agia Paraskevi and only 50m away from the thermal baths (SPA) and 50m from the sea. The check-in for the clients of these 5 hotels takes place in Hotel Loutra Beach.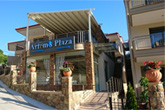 Hotel Artemis Plaza is situated in the south-western part of the Peninsula of Kassandra, in Loutra Agias Paraskevis, just 100 metres from the springs, 150 m from the sea and 200 m from the pitoresque small port surrounded by cafes, bars and restaurants. The bus stop is 150 m from the hotel.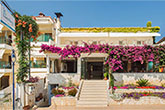 Located ideally on the southwestern edge of the Peninsula of Kassandra; Loutra's Idillic scenery combines majestic caves and caverns formed by the rocks of the Aegean Sea with the lush pine forests of Agia Paraskevi. Located by the sea, 50m from the beach and a 300m walk to the thermal baths of Agia Paraskevi. This family-run hotel consists of 22 stylish and elegantly decorated rooms, ready to offer you unforgettable holidays. All rooms of Hotel Loutra Beach have been renovated in 2005-2006 and are fully equipped with modern services to satisfy your every need.